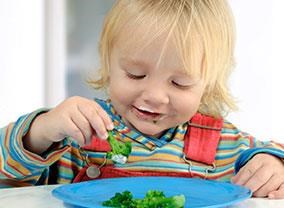 Trying to get your toddler to eat a balanced diet can be challenging, to put it politely. But with a little patience and creativity from you, eating healthy and feeding your toddler solid foods can be a lot of fun.
While calorie amounts vary by child, a meal plan filled with whole grains, fruits and veggies, calcium-rich foods and lean protein sources, is standard issue healthy, toddler nutrition. So is limiting added sugar and salt. Try these mom-tested tips to help make "good" and "good for you" feel like the same thing to your toddler:
Things That Go Squish
Oatmeal (fiber, carbohydrate)
Banana (potassium)
Avocado (fiber, potassium, vitamin C)
Roasted sweet potato (vitamin A, potassium)
Strawberries (vitamin C, potassium, fiber, antioxidants)
Frozen Things
(It's amazing how frozen=fun, no matter what it is. Be sure whatever you freeze is large enough to suck on, to avoid a choking hazard.)
Homemade juice pops made from 100% fruit or vegetable juice (try them as ice cubes in a sippy cup!)
Low-fat frozen yogurt (calcium)
Blueberry smoothie made with yogurt and frozen blueberries (calcium, antioxidants, vitamin C)
Things You Can Slurp
Whole-wheat spaghetti (magnesium, fiber)
Soup (room temperature) through a straw
Tomato soup (vitamin C, potassium, copper)
Chicken noodle soup (selenium, protein)
Things You Can Dip
(This never seems to get old with most toddlers.)
Fruit pieces in low-fat vanilla yogurt (protein, calcium, riboflavin)
Carrot sticks in hummus (vitamin A, fiber, calcium, zinc)
Cooked broccoli trees in low-fat plain yogurt (calcium, potassium, vitamin C)
Cooked snowpeas in low-fat ranch dressing (protein, manganese, potassium)
Things That Roll
Peas (chromium, fiber, magnesium)
Cheerios® (calcium, thiamin, riboflavin, niacin, folate)
Cooked chickpeas (folate, fiber, protein)
Cooked carrot coins (vitamin A)
Turkey meatballs (protein)
Sticks
Open-faced toasted cheese on whole-wheat bread cut into sticks (protein, calcium, fiber, riboflavin)
Cheese sticks (protein, calcium)
Carrot sticks (vitamin A)
Peanut butter and jelly sandwich sticks (protein, zinc, folate, fiber)
Fish sticks (protein)
Edible Artwork
Veggie faces
Spinach hair (vitamin A, vitamin C, folate, magnesium)
Carrot nose (vitamin A)
Cooked black bean eyes (iron, protein)
Cooked chick pea teeth (manganese, folate, fiber, protein)
Encourage your little one to build his own masterpiece. (Broccoli makes great trees, and brown rice can be molded into mountains!)
Other Toddler Feeding Tips:
Use fun shapes.
Cookie cutters, melon ballers, pizza cutters and measuring cups are all magical tools you already have on hand.
Use silly containers.
It's amazing how much more appealing a food can be if it's served up in a (new) flowerpot or on a fun plate. Be creative.
Source: USDA (http://www.nal.usda.gov/fnic/foodcomp/search/index.html)