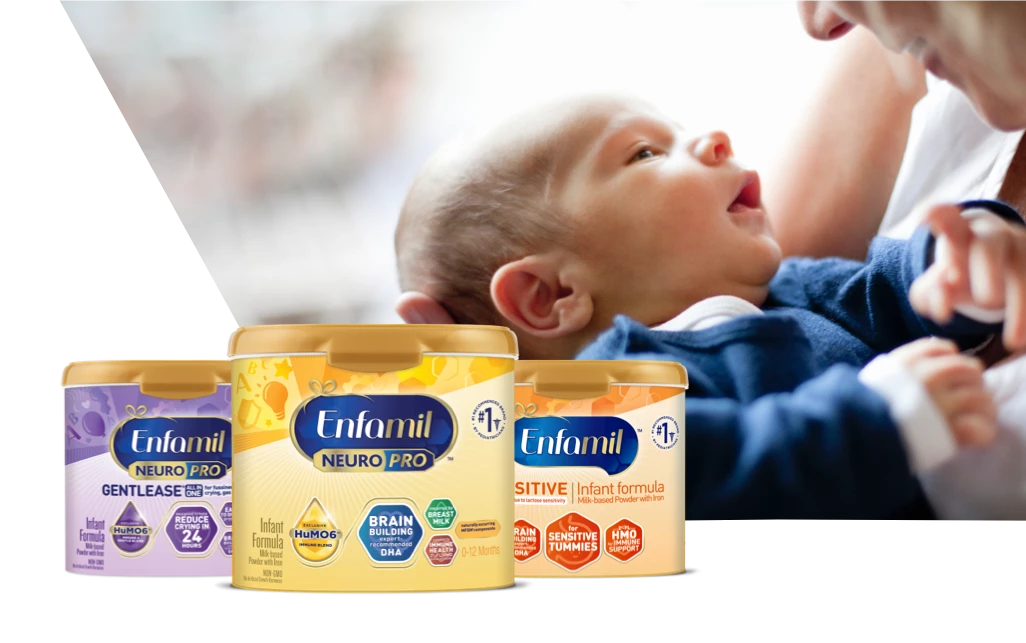 Give your baby a strong start.
With an expert-recommended amount of DHA*, Enfamil can help your baby reach cognitive, language and vision milestones sooner.
OVERVIEW
ONLY leading formula to have DHA as experts recommend
#1 Trusted Brand for Brain-Building and Immune Support
Nourishes brain development
Only leading brand with Omega 3 DHA in an amount global experts recommend, and has other essential nutrients.
Supports Immune Health
ONLY Enfamil NeuroPro Infant has Natural Defense™ Dual Prebiotics for HMO effect on Immune Health.
Inspired by breast milk
Enfamil is backed by years of breast milk research. Gentle enough for supplementing breastfed babies.
Real Families. Real Results.
Slide 1 of 3
Quality and knowing I'm giving my baby something great for his development.

Baby loved it. He was very gassy and kept waking up at night. When we switched to this formula, he started sleeping great.

Enfamil NeuroPro Gentlease Mom

Really cuts down on baby's gas and discomfort.
*World Health Organization (W.H.O) recommended amount of DHA is 0.2% - 0.36% of total fatty acids. Enfamil's DHA amount = 17mg/100kcal in US vs Similac = 8mg/ 100kcal in U.S., 12.9mg in China, and 13.8mg in the U.K.
ENFAMIL FAMILY BEGINNINGS
Join for up to $400 in free gifts.
By clicking "Join Now" you are entered in to the sweepstakes. I agree to join Enfamil Family Beginnings and receive free samples, offers and other communications from Enfamil, and may receive communication about Enfamil's affiliated Reckitt brands. I understand and agree to the Terms of Use, Privacy Policy and Sweepstakes Official Rules.