Your newborn will quickly grow into an independent, on-the-go crawler whose natural curiosity may turn many areas of your home into potential danger zones. Protect your little one and give yourself some peace of mind by baby-proofing every room in your house. Let's dive into the steps to take, products to buy, and a checklist of baby-proofing to-dos that can help keep your baby safe.
How to baby-proof your home
Step 1 - Assess your home
Go room by room (use our baby-proofing checklist below) and identify areas that could be hazardous to your little one once they begin crawling and walking.
Step 2 - Buy safety supplies and make changes
Whether it's storing medicines and cleaners up high or anchoring heavy, free-standing furniture, begin making necessary changes. Be sure you have outlet covers, corner guards, furniture anchors, and other essential baby protection items and start installing them around your home.
Step 3 - Double check everything…and keep checking
Review your home again, top to bottom, for potential problem areas. Look at your home through the eyes of a baby—a little adventurer who wants to explore it all. Remember that keeping your home safe is an ongoing process; protective measures will need to adapt and change as your child grows.
What age should you start to baby-proof?
The optimal time to start baby-proofing your home is before your due date. It may seem early, but gathering all the necessary supplies and rearranging or securing risky spots can take some time. Your little one will be here soon; becoming curious and cruising around before you know it!
If your bundle of joy has already arrived, try to begin the baby-proofing process before they start crawling.
What products are needed to baby-proof your house?
Some common products required to baby-proof a house include:
Outlet covers
Baby gates
Child-proof locks and safety latches for cabinets and drawers
Toilet locks
Oven locks
Cord covers
Knob covers
Smoke and carbon monoxide detectors
Window guards
Corner guards or padding
Furniture anchors
Door slam stoppers
Cordless blinds
Non-slip rug pads
How much does baby-proofing cost?
The cost of DIY baby-proofing depends on the items you purchase. Many supplies, such as outlet covers and cabinet locks, may cost under $10. Other safety measures, such as painting over lead paint, will cost significantly more.
You may also choose to hire a professional baby-proofing service. Someone will come to your home, provide an evaluation, identify risks, and install safety devices. You'll likely pay a consultation fee and the cost of any items. Prices vary depending on your area and the size of your home, but it could be a few hundred dollars. Some services will just evaluate your home for any hazards and provide you with a list of items that you can purchase and install on your own.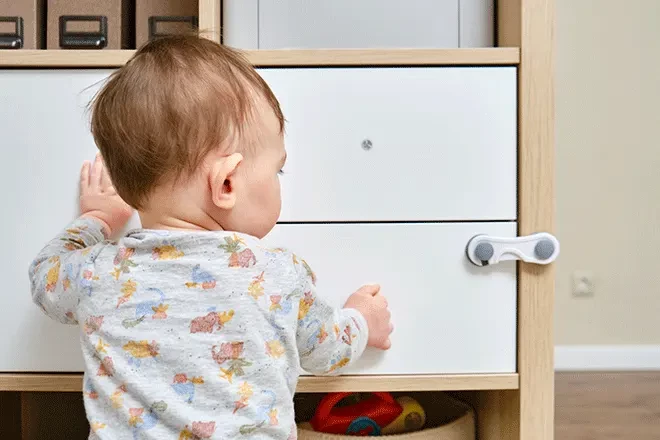 Remember that keeping your home safe is an ongoing process; protective measures will need to adapt and change as your child grows.
Baby-Proofing Checklist
Baby-proofing your home doesn't have to be a burden. Use this room-by-room, baby-proofing checklist to help keep your active and inquisitive little one safe as they start to crawl and walk.
Throughout your home:
Use outlet covers
Help avoid electrocution by using outlet covers on all open outlets.
Know your emergency numbers
Add the numbers for the pediatrician, local police and fire departments, and poison control in your cell phone. List them near any landline, too.
Check for lead paint
Older homes may have lead-based paint, which can be poisonous, so hire a professional to check for it. If there is lead paint, it can be painted over with lead-free paint.
Stop door slams
Safeguard against slamming doors and caught fingers by using slam stoppers.
Use non-skid rug pads
Help avoid slips by placing non-skid pads under area rugs. Secure the rugs for your baby and for you when you're carrying them.
Install carbon monoxide and smoke detectors
Ensure that detectors are placed around your home and check to see that they have fresh batteries. These are essential for any household, with or without children.
Check the water heater
Help avoid scalding by setting your water heater to a maximum of 120 degrees Fahrenheit.
Use cordless window blinds
Replace corded window coverings with cordless blinds that have a "Best for Kids™" certification label.
Install stair gates
Your baby will be scooting around soon. Install gates at the bottom and top of stairs and in doorways to areas you don't want your little one accessing.
Keep electrical cords out of reach
Move electrical cords and wires off the floor or use cord covers.
Anchor furniture
Help avoid tip-overs by anchoring heavy, free-standing dressers, bookcases, televisions, clothing units, and other furniture to the wall.
Guard the windows
Install window guards to help prevent little ones from climbing through an open window.
Nursery:
Set up the crib for safety
A minimal sleep environment is safest. Use a firm, tight-fitting mattress, and don't keep any pillows, bumper pads, or stuffed toys in the crib. Ensure the crib is assembled correctly and meets the latest safety standards.
Use an open toy box
Store toys in baskets or open boxes instead of ones with lids. Once your baby becomes stronger, more mobile, and able to pull themselves up to stand, they may try to open and close lidded toy chests or climb in.
Kitchen:
Use locks, covers, and guards
Install locks, stove knob covers, stove guards, and other safety items to secure the oven, refrigerator, drawers, dishwasher, and cabinets.
Secure the refrigerator
Ensure the refrigerator is attached to the wall to keep it from toppling.
Cushion corners
Purchase corner guards for kitchen tables, islands, and other corners.
Rearrange potentially hazardous items
Store your trash can out of sight, and move any accessible plastic bags out of reach for tiny, curious hands. Place detergents behind locked doors or on high shelves out of baby's sight.
Bathroom:
Lock up medicines, makeup, and cleaning products
Use safety locks on your medicine cabinets, storage boxes, and closets. You may also want to hide the toilet brush, which, surprisingly, often attracts the attention of little ones.
Secure the toilet
Install a toilet seat lock, which is usually a simple latch. Remember to tell your guests how to use it!
Use non-slip bath mats
Help keep your baby safe from slipping and sliding in the tub by using a non-slip mat at bath time.
Keep the door closed
Keeping the bathroom door shut once your baby reaches the toddler stage is a good idea.
Living room and den:
Soften the edges
A coffee table is the just-right height for a toddler to hit their head. Use corner protectors, edge guards, or even a hollow pool noodle to soften hard edges.
Guard your fireplace
Use a restrictive gate around your fireplace and store fireplace tools out of the way.
Store breakables, small items, and plants out of reach
That delicate family heirloom? The vase you bought on your vacation? Any breakables within your baby's reach pose a hazard to your little one…not to mention the item itself. Move them up high. You'll also want to put away small things and relocate plants your baby could put in their mouth.
Laundry and utility rooms, garages, and basements:
Keep supplies and hazardous chemicals inaccessible
Colorful cleaning product packaging can captivate babies and toddlers. Store detergents, cleaning pods, and other household cleaning products and chemicals out of reach and out of sight.
Keep the products in their container and don't remove labels since the packages feature important safety information.
Lock washer and dryer
Large empty spaces can be tempting play areas for toddlers. Install child safety locks if your washer and dryer don't have built-in locking features.
Keep batteries out of reach
Batteries can be swallowed, so keep them out of reach; this also includes coin lithium "button batteries" and items that use them, such as key fobs.
Explore Enfamil Family Beginnings® for more baby tips and resources
Baby-proofing your home can help keep your on-the-go baby safe and happy as they navigate their exciting new world with you by their side. For more tips and resources on all things baby, be sure to join Enfamil Family Beginnings®. Enjoy up to $400 in savings, plus exclusive rewards, support, and surprises. Join now.