Scientists have studied the effect of music on premature infants for many years. In fact, studies have shown that in addition to soothing a preemie, music may also help them grow and thrive.
---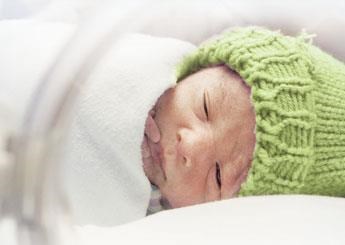 Music Therapy for Babies in the NICU
The NICU (Neonatal Intensive Care Unit) can be a stressful place for a premature infant. There's the noise, and the lights, and the monitors. Not to mention, a preemie may regularly undergo painful procedures during their hospital stay.
All of these negative environmental factors can get in the way of the primary goal in the NICU—growth. It takes lots of energy to grow outside of the mother's womb, so anything doctors and nurses—and parents—can do to make it easier for a preemie to grow is a very good thing.
That's where music therapy comes in handy for your premature baby.
In many NICUs, the use of music has become standard of care.1 That means, many clinicians believe it's a proven tool to help the premature infant, and they have made music therapy a part of their regular treatment plan.
The Benefits of Premature Baby Music Therapy
There are a number of potential benefits that have been documented in the use of music therapy for preemies. For one, music has been shown to help calm babies,2,3 including soothing inconsolable crying4 and improving sleep.5
Music has also been shown to:
Increase oxygen saturation levels.4,6
Improve feeding ability and help increase caloric intake.3,7,8
Improve weight gain.3,6,8
Shorten the number of days in the hospital.3,9,10
Music Beyond the NICU for Premature Babies
The benefits of music for your preemie can go beyond the NICU. In fact, playing music has also been shown to help calm parents11 and increase the rate of bonding.6,12 Further, it may help stimulate neurodevelopment and help language and social development.6,13,14
Even if your infant didn't have music therapy in the hospital, you can start it at home. Here are a few tips on using music at home:
Play soft, calm music in short intervals (20-30 minutes) a couple of times per day.
Sing or hum along with the music–your baby loves to hear your voice!
Have music time before you put your baby down to sleep or during feeding.
Be sure to watch for signs of overstimulation from your baby, and don't overdo it!
So if you're looking to give your baby's brain a boost or just to share a tender moment, music can help in easing your transition home with your special newborn.
References:
Hartling L, et al. Music for medical indications in the neonatal period: a systematic review of randomised controlled trials. Arch Dis Child Fetal Ed. 2009:94;F349–F354.
Lorch CA, et al. Effect of stimulative and sedative music on systolic blood pressure, heart rate, and respiratory rate in premature infants. J Music Ther. 1994:31;105–118.
Caine J. The effects of music on the selected stress behaviors, weight, caloric and formula intake, and length of hospital stay of premature and low birth weight neonates in a newborn intensive care unit. J Music Ther. 1991:28(4);180–192.
Keith DR, et al. The effects of music listening on inconsolable crying in premature infants. J Music Ther. 2009:46(3);191–203.
Kemper K, et al. Attitudes and expectations about music therapy for premature infants among staff in a neonatal intensive care unit. Altern Ther Health Med. 2004:10(2);50–54.
Standley JM. A Meta–Analysis of the Efficacy of Music Therapy for Premature Infants. J Pediatr Nurs. 2002:17(2);107–113.
Standley JM. The Effect of Music–Reinforced Nonnutritive Sucking On Feeding Rate of Premature Infants. J Pediatr Nurs. 2003:18(3);169–173.
Coleman JM, et al. The effects of the male and female singing and speaking voices on selected physiological and behavioral measures of premature infants in the intensive care unit. International J Arts Med. 1997:5;4–11.
Standley JM. The effect of music and multimodal stimulation on responses of premature infants in neonatal intensive care. Ped Nurs. 1998:24(6);532–538.
Standley JM, Swedberg O. NICU music therapy: Post hoc analysis of an early intervention clinical program. Arts in Psychother. 2011:38;36–40.
Lai H–L, et al. Randomized controlled trial of music during kangaroo care on maternal state anxiety and preterm infants' responses. Int J Nurs Stud. 2006:43(2);139–146.
Whipple J. The effect of parent training in music and multimodal stimulation on parent–neonate interactions in the neonatal intensive care unit. J Music Ther. 2000:37(4);250–268.
Walworth DD. Effects of developmental music groups for parents and premature or typical infants under two years on parental responsiveness and infant social development. J Music Ther. 2009:46(1);32–52.
Bales D. Building Baby's Brain: The Role of Music. 1998. Athens, GA: University of Georgia, College of Family and Consumer Sciences. Available at: http://www.educationoasis.com/visitor-resources/articles/role-music/. Accessed on June 11, 2012.