Infant hunger cues

Moves head from side to side

Opening their mouths

Puckers lips as if to suck

Sticking out their tongues

Nuzzles against your breasts

Bring fingers to mouth
How much should an infant eat?

Liquid
• Breast milk
• Infant formula, iron-fortified
Liquid intake:
• 6-8 fl oz (180-240 mL) 4-5 times/day (4-5 feedings)
Tips
• Look for an infant formula that has about 17 mg/100 kcal of Docosahexaenoic Acid (0.32% DHA).
• This will help ensure your baby is getting a DHA amount similar to the average amount in world wide breast milk.*

Breast milk provides the optimal nutrition for your baby.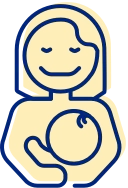 How to tell if your baby is getting enough to eat:
• 6-8 wet diapers a day
• Loose yellowish stool (1st month)
• Appropriate weight gain
Tips
• Lactating women should have at least 200 mg of DHA/day†. Eat foods rich in DHA, especially fatty fish such as salmon, to support your baby's normal brain and eye development.§
• All breastfed infants should receive a daily Vitamin D supplement of 400 IU (10 μg) until their diet provides it.
* Average amount of DHA and ARA in worldwide breast milk is 0.32% and 0.47% (mean ± standard deviation of total fatty acids) based on an analysis of 65 studies of 2,474 women).
† Koletzko B et al. J Perinat. Med. 2008;36:5-14.
§ For example, herring, mackerel, pollock, salmon and shrimp. Visit the FDA website for advice regarding eating fish.